Airmatic Compressor Systems, Inc.
Application Selection Guide: Choosing the Right Air Compressor
Choosing the right air compressor for your application is essential, but it can feel overwhelming. To learn more about how to make the right choice, read our eBook.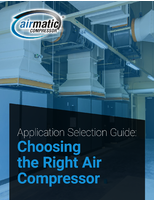 Air compressors are used everywhere from operating rooms to chemical processing plants. They also come in a wide range of shapes, sizes, and styles. Since there are so many options available, it's important to take the time to familiarize yourself with the differences between the various types of air compressors so that you can identify the best fit for your application. In this guide, we outline the primary options for air compressors to help you make the right decision. Inside includes information on: - Types of Air Compressors - Air Compressor Applications - Air Compressor Comparisons - And More!