Able Electropolishing Co., Inc.
The Advantages of Electropolishing for Deburring Metal Parts
This whitepaper provides an overview of electropolishing for removing microburrs from metal parts.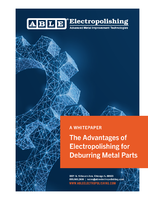 Microburrs that are created at the corners or edges of parts during blanking, milling, broaching, lapping or grinding can become dislodged during assembly or use and contaminate or damage the materials or components they come into contact with. Download this whitepaper to learn more about electropolishing for deburring metal parts.