Investment Casting Vs. Permanent Mold Casting
This white paper provide an overview of investment casting and permanent mold casting.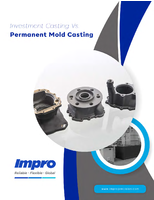 Permanent mold casting is a process in which hot metal is poured into a mold, which is itself then clamped shut. Download this white paper to learn more about this process and investment casting.